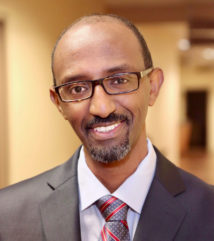 Dr. Giday joined our group from The Johns Hopkins Hospital where he was the Robert E. Meyerhoff Professor and Director of the Endoscopic Ultrasound Unit. Dr. Giday earned his medical degree from Addis Ababa University Medical School with top honors. He then joined Howard University Hospital where he completed his internal medicine residency as well as his clinical gastroenterology fellowship. During his years at Howard University he was elected to the National Medical Honor Society: Alpha Omega Alpha. Dr. Giday then completed a two year fellowship at the Johns Hopkins Hospital in advanced therapeutic endoscopy–including endoscopic ultrasound as well as ERCP–a technique that enables stones, tumors, and other conditions of the bile ducts and pancreas to be treated in a minimally invasive manner without the need for surgery.
Dr. Giday is an internationally recognized expert in emerging endoscopic techniques as well as technologies. He is published in the fields of gastrointestinal bleeding, pancreatic cysts, pancreatic and other GI cancers.  He has been a frequent lecturer on these and other topics for gastroenterologists as well as other health care professionals both nationally as well as internationally. He has published over 60 scientific papers in different topics ranging from colon cancer, capsule (pill camera) endoscopy and other gastrointestinal ailments. He has also authored several chapters in books used as references for practicing gastroenterologists and surgeons.
Dr. Giday is board certified in internal medicine as well as gastroenterology. He is a fellow of the American College of Gastroenterology, and member of the American Society for Gastrointestinal Endoscopy and the American Gastroenterological Association.